MORETTI FORNI IDECK PIZZA OVENS
Moretti Forni have manufactured professional pizzeria equipment since 1946. They are the leading European manufacturer of pizza deck ovens. The iDeck electric pizza ovens are intelligent products that are easy to use and excellent value for money. Put more than 60 years experience in your next oven!
The iDeck range from Moretti Forni comprises two versions of this superb entry level pizza oven. On this page you will find the PM/PD version featuring traditional electomechanical controls. The electromechanical version is available in 4 sizes and each size is available as a single or double deck version. With a range this comprehensive you are bound to find the right oven for you.
The iDeck range of pizza ovens are manufactured from stainless steel and feature a refractory brick deck over an embossed steel sheet. This gaurantees that heat is evenly distributed over the entire baking surface. This means that iDeck ovens are suitable for baking pizza directly on the deck or in pizza pans. The baking chamber is heated by armoured heating elements and has internal lighting whilst the door contains tempered glass to view and control the product while baking. The electromechanical iDeck range offers fully independent control of the top and bottom of each deck with a maximum temperature of 450°C.
Each oven is available with an optional static stand, optional castors, or optional static stand with castors and with tray slides. An optional hood is also available for each oven. A prover on castors is available with price on application and a 5 week lead time.
Click here to view the iDeck (electromechanical) brochure.
Moretti Forni iDeck PM 60.60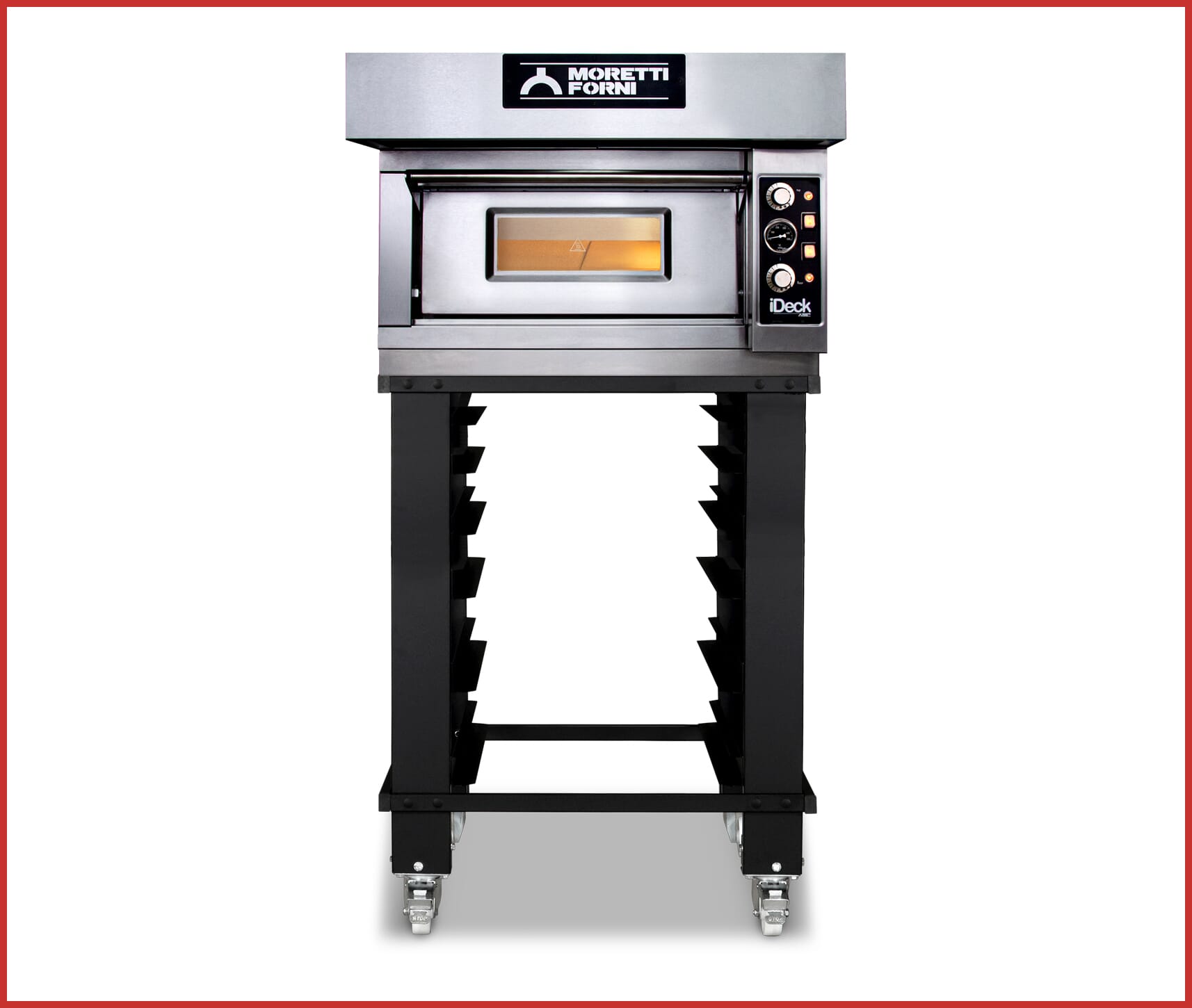 Dimensions:-
External: 850mm W x 930mm D x 370mm H
Internal: 610mm W x 660mm D x 140mm H
Capacity: 4 x 12" pizzas
Decks: 1
Controls: Electromechanical
Power: 4.2KW (Single Phase or Three Phase)
Weight: 80KG
Warranty: 1 Years Parts & Labour
Oven:
£1,668
+ VAT
Static stand:
£356
+ VAT
Castors:
£165
+ VAT
Static Stand + Castors + Tray Slides:
£780
+ VAT
Hood:
£234
+ VAT
Lease purchase available
Find out more about leasing
iDeck PM 60.60 Spec Sheet
iDeck PM 60.60 | In stock:
| &nbsp&nbsp&nbsp&nbsp&nbsp&nbsp&nbsp&nbsp&nbsp&nbsp&nbspDelivery: Free, 2-3 Days | &nbsp&nbsp&nbsp&nbsp&nbsp&nbsp&nbsp&nbsp&nbsp&nbsp&nbsp&nbsp&nbsp Plug Fitted:
Moretti Forni iDeck PM 72.72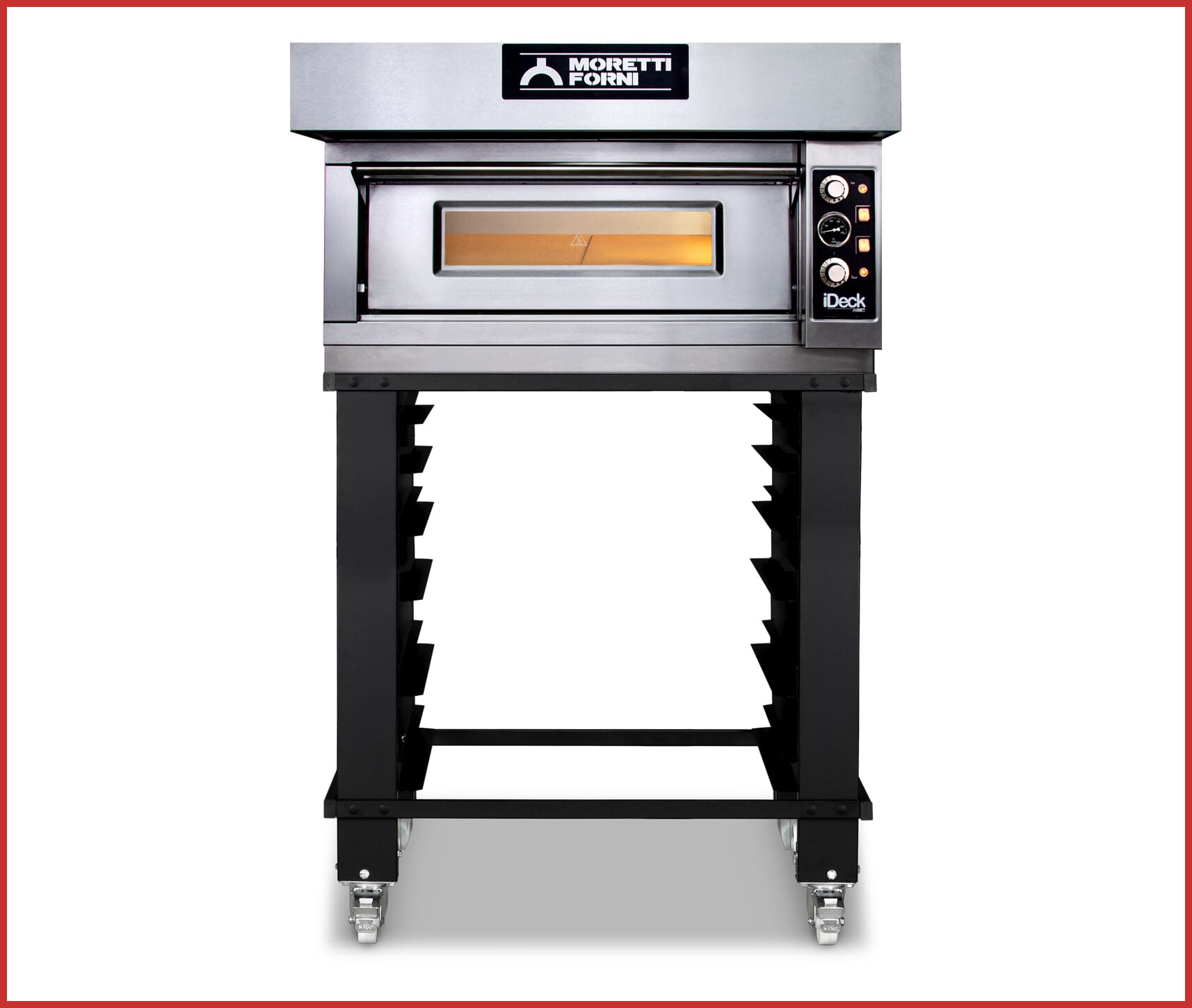 Dimensions:-
External: 990mm W x 1060mm D x 370mm H
Internal: 720mm W x 720mm D x 140mm H
Capacity: 4 x 12" pizzas (in pans)
Decks: 1
Controls: Electromechanical
Power: 6KW (Three Phase)
Weight: 105KG
Warranty: 1 Years Parts & Labour
Oven:
£1,990
+ VAT
Static stand:
£367
+ VAT
Castors:
£165
+ VAT
Static Stand + Castors + Tray Slides:
£791
+ VAT
Hood:
£339
+ VAT
Lease purchase available
Find out more about leasing
iDeck PM 72.72 Spec Sheet
iDeck PM 72.72 | In stock:
| &nbsp&nbsp&nbsp&nbsp&nbsp&nbsp&nbsp&nbsp&nbsp&nbsp&nbspDelivery: Free, 5 Weeks | &nbsp&nbsp&nbsp&nbsp&nbsp&nbsp&nbsp&nbsp&nbsp&nbsp&nbsp&nbsp&nbsp Plug Fitted:
Moretti Forni iDeck PM 105.65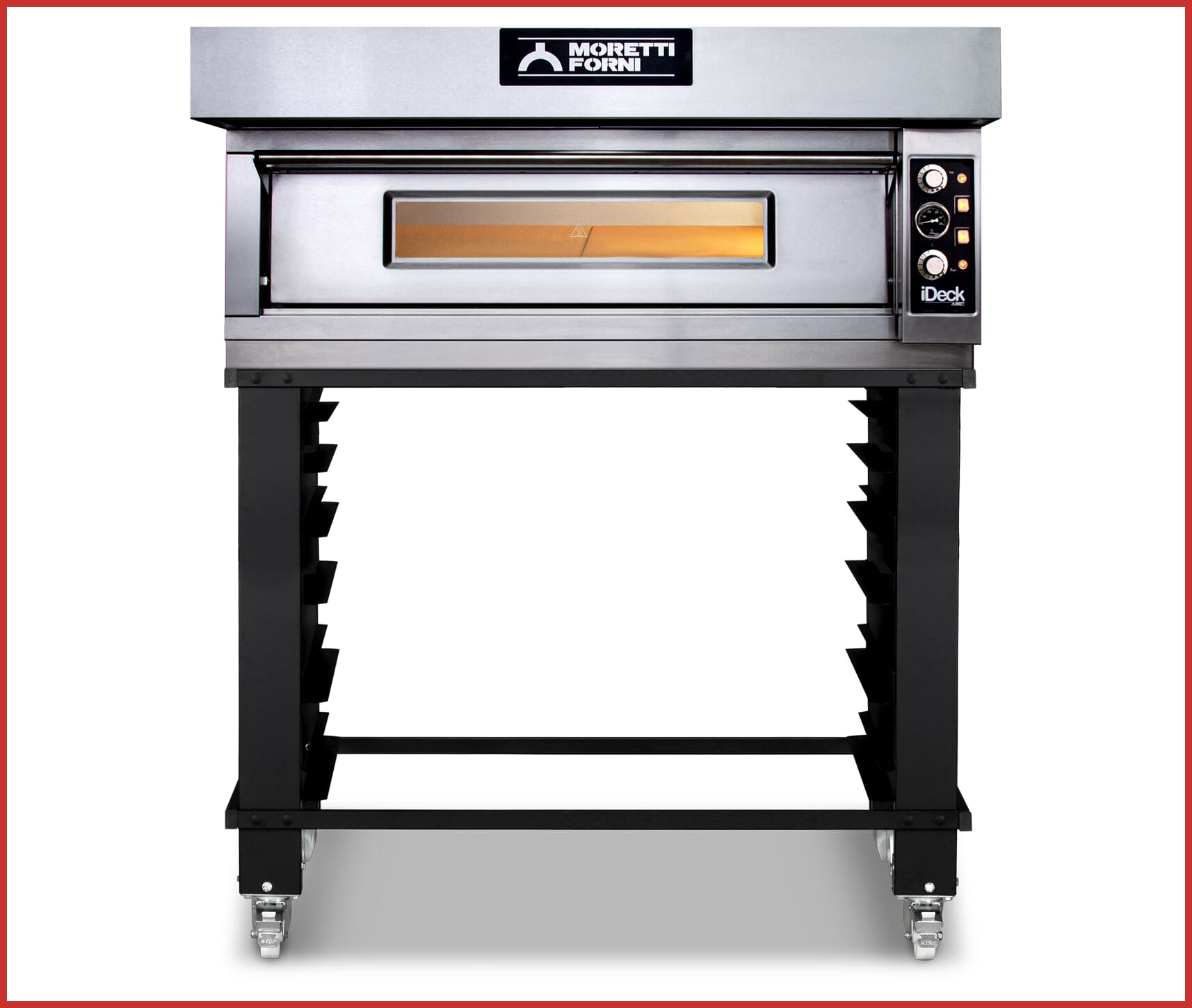 Dimensions:-
External: 1320mm W x 1000mm D x 370mm H
Internal: 1050mm W x 660mm D x 140mm H
Capacity: 6 x 12" pizzas
Decks: 1
Controls: Electromechanical
Power: 8.2KW (Three Phase)
Weight: 123KG
Warranty: 1 Years Parts & Labour
Oven:
£2,343
+ VAT
Static stand:
£378
+ VAT
Castors:
£165
+ VAT
Static Stand + Castors + Tray Slides:
£854
+ VAT
Hood:
£434
+ VAT
Lease purchase available
Find out more about leasing
iDeck PM 105.65 Spec Sheet
iDeck PM 105.65 | In stock:
| &nbsp&nbsp&nbsp&nbsp&nbsp&nbsp&nbsp&nbsp&nbsp&nbsp&nbspDelivery: Free, 5 Weeks | &nbsp&nbsp&nbsp&nbsp&nbsp&nbsp&nbsp&nbsp&nbsp&nbsp&nbsp&nbsp&nbsp Plug Fitted:
Moretti Forni iDeck PM 105.105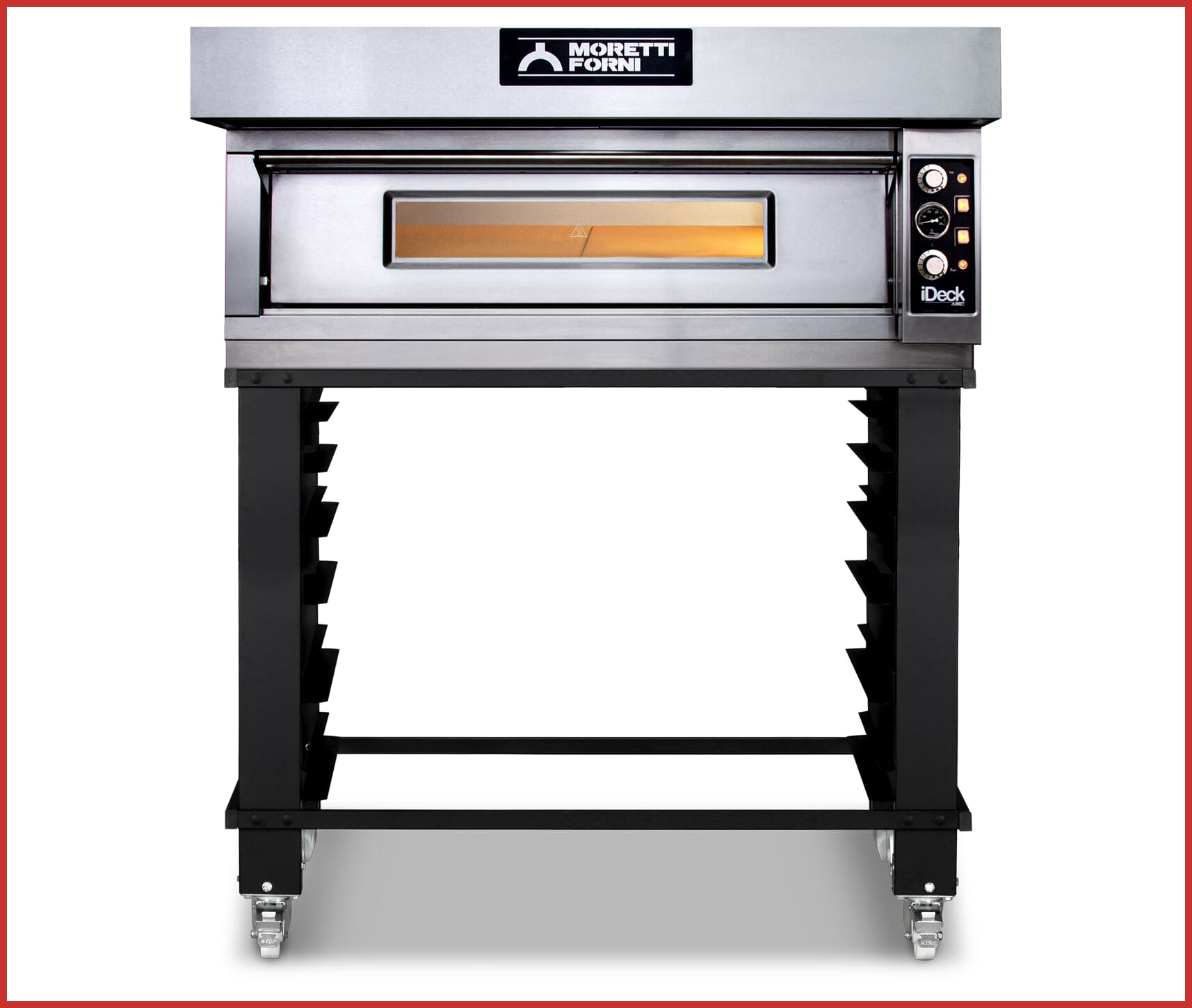 Dimensions:-
External: 1320mm W x 1400mm D x 370mm H
Internal: 1050mm W x 1050mm D x 140mm H
Capacity: 9 x 12" pizzas
Decks: 1
Controls: Electromechanical
Power: 11.6KW (Three Phase)
Weight: 164KG
Warranty: 1 Years Parts & Labour
Oven:
£2,783
+ VAT
Static stand:
£518
+ VAT
Castors:
£165
+ VAT
Static Stand + Castors + Tray Slides:
£994
+ VAT
Hood:
£541
+ VAT
Lease purchase available
Find out more about leasing
iDeck PM 105.105 Spec Sheet
iDeck PM 105.105 | In stock:
| &nbsp&nbsp&nbsp&nbsp&nbsp&nbsp&nbsp&nbsp&nbsp&nbsp&nbspDelivery: Free, 5 Weeks | &nbsp&nbsp&nbsp&nbsp&nbsp&nbsp&nbsp&nbsp&nbsp&nbsp&nbsp&nbsp&nbsp Plug Fitted:
Moretti Forni iDeck PD 60.60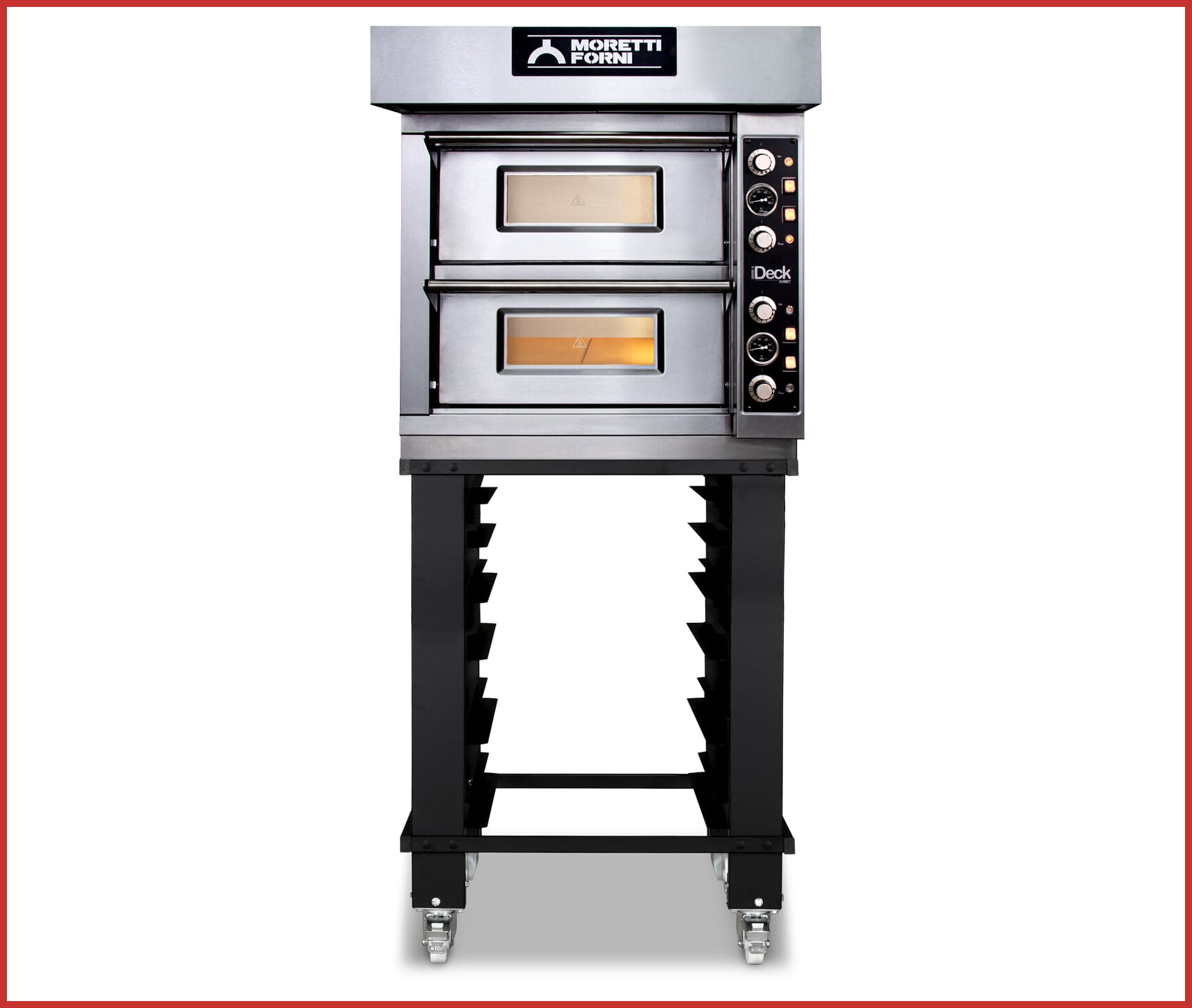 Dimensions:-
External: 850mm W x 930mm D x 660mm H
Internal: 610mm W x 660mm D x 140mm H (per deck)
Capacity: 8 x 12" pizzas
Decks: 2
Controls: Electromechanical
Power: 8.4KW (Single Phase or Three Phase)
Weight: 133KG
Warranty: 1 Years Parts & Labour
Oven:
£2,327
+ VAT
Static stand:
£356
+ VAT
Castors:
£165
+ VAT
Static Stand + Castors + Tray Slides:
£780
+ VAT
Hood:
£234
+ VAT
Lease purchase available
Find out more about leasing
iDeck PD 60.60 Spec Sheet
iDeck PD 60.60 | In stock:
| &nbsp&nbsp&nbsp&nbsp&nbsp&nbsp&nbsp&nbsp&nbsp&nbsp&nbspDelivery: Free, 2-3 Days | &nbsp&nbsp&nbsp&nbsp&nbsp&nbsp&nbsp&nbsp&nbsp&nbsp&nbsp&nbsp&nbsp Plug Fitted:
Moretti Forni iDeck PD 72.72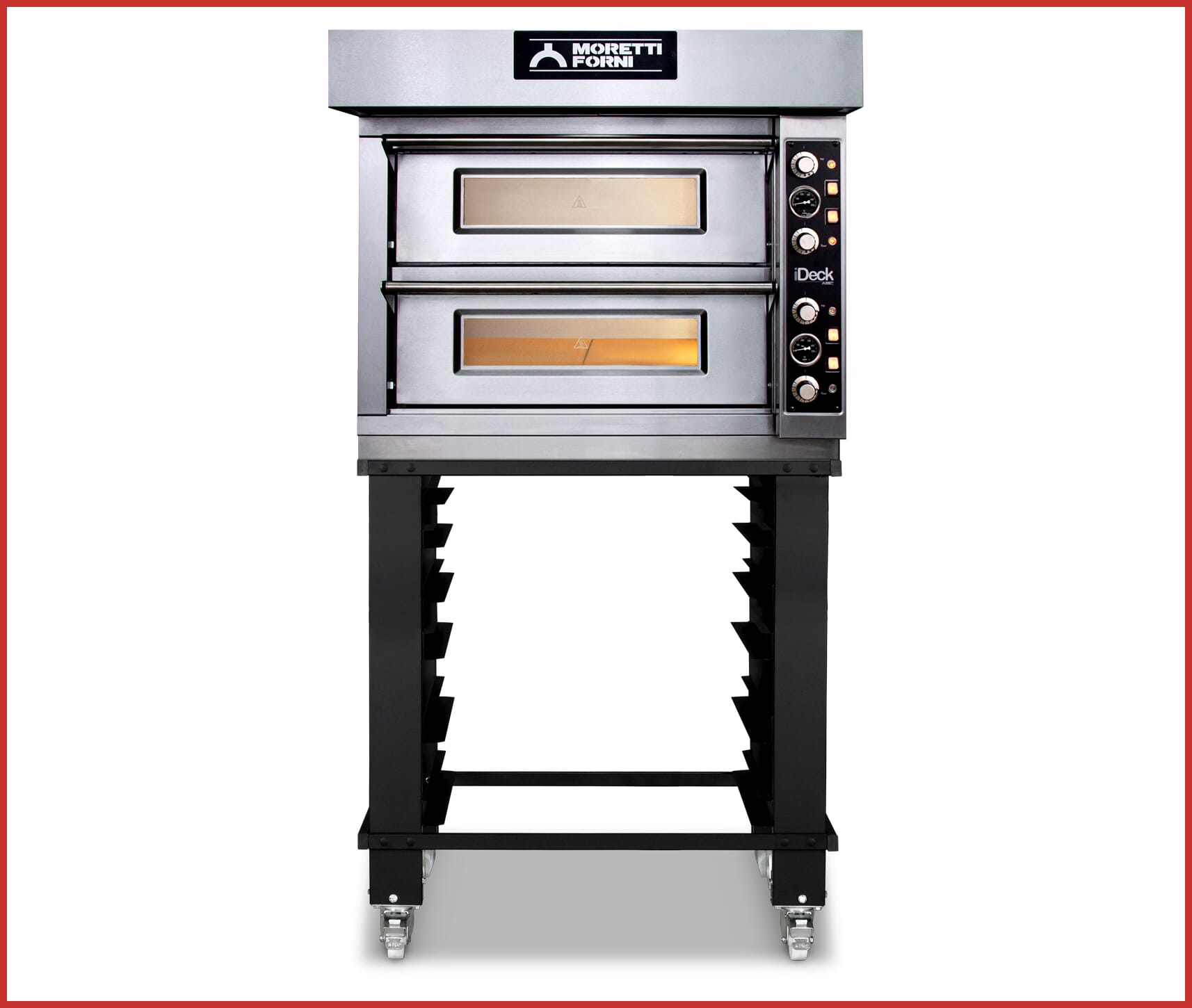 Dimensions:-
External: 990mm W x 1060mm D x 660mm H
Internal: 720mm W x 720mm D x 140mm H (per deck)
Capacity: 8 x 12" pizzas (in pans)
Decks: 2
Controls: Electromechanical
Power: 12KW (Three Phase)
Weight: 175KG
Warranty: 1 Years Parts & Labour
Oven:
£2,985
+ VAT
Static stand:
£367
+ VAT
Castors:
£165
+ VAT
Static Stand + Castors + Tray Slides:
£791
+ VAT
Hood:
£339
+ VAT
Lease purchase available
Find out more about leasing
iDeck PD 72.72 Spec Sheet
iDeck PD 72.72 | In stock:
| &nbsp&nbsp&nbsp&nbsp&nbsp&nbsp&nbsp&nbsp&nbsp&nbsp&nbspDelivery: Free, 5 Weeks | &nbsp&nbsp&nbsp&nbsp&nbsp&nbsp&nbsp&nbsp&nbsp&nbsp&nbsp&nbsp&nbsp Plug Fitted:
Moretti Forni iDeck PD 105.65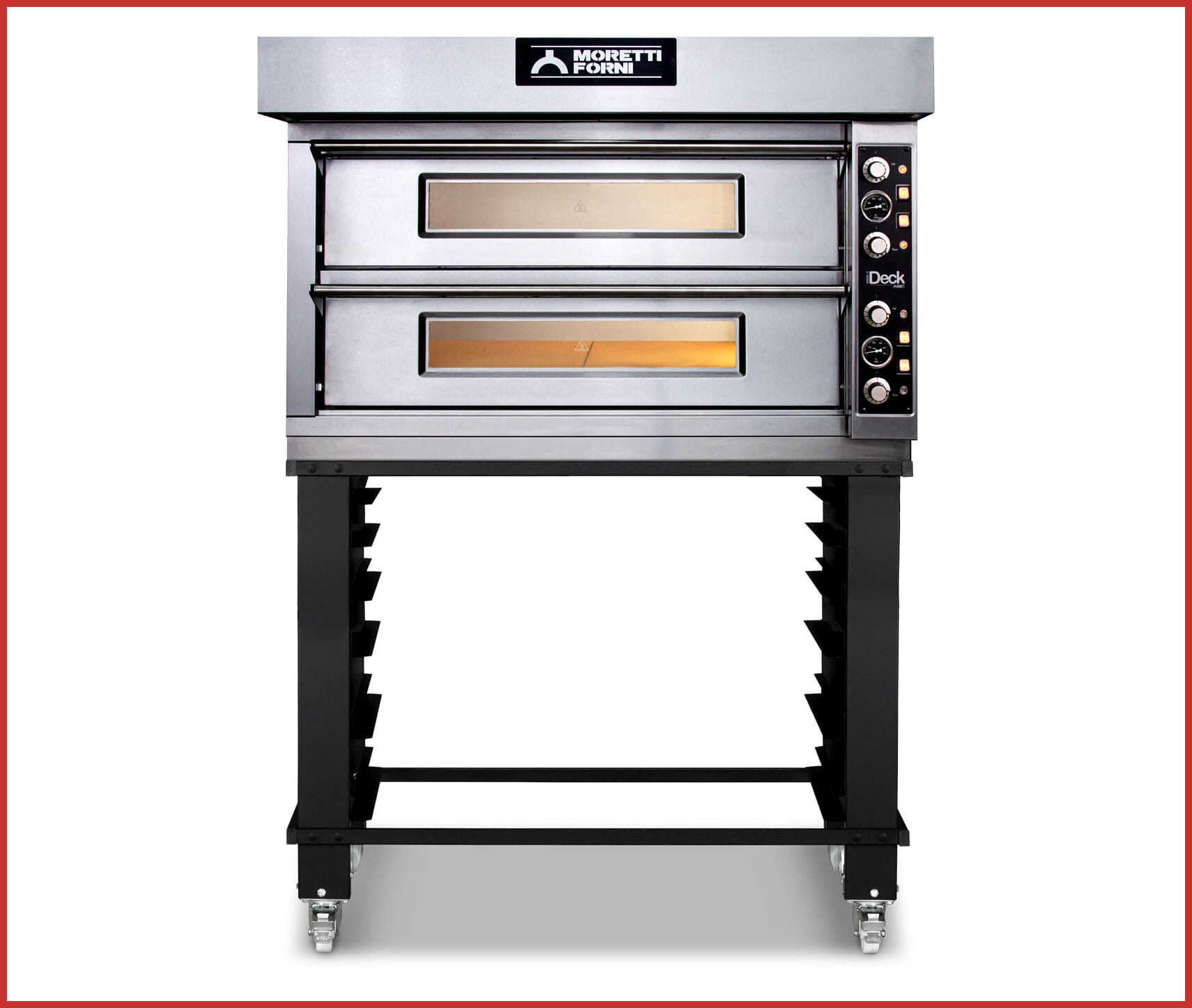 Dimensions:-
External: 1320mm W x 1000mm D x 660mm H
Internal: 1050mm W x 660mm D x 140mm H (per deck)
Capacity: 12 x 12" pizzas
Decks: 2
Controls: Electromechanical
Power: 16.3KW (Three Phase)
Weight: 200KG
Warranty: 1 Years Parts & Labour
Oven:
£3,336
+ VAT
Static stand:
£378
+ VAT
Castors:
£165
+ VAT
Static Stand + Castors + Tray Slides:
£854
+ VAT
Hood:
£434
+ VAT
Lease purchase available
Find out more about leasing
iDeck PD 105.65 Spec Sheet
iDeck PD 105.65 | In stock:
| &nbsp&nbsp&nbsp&nbsp&nbsp&nbsp&nbsp&nbsp&nbsp&nbsp&nbspDelivery: Free, 2-3 Days | &nbsp&nbsp&nbsp&nbsp&nbsp&nbsp&nbsp&nbsp&nbsp&nbsp&nbsp&nbsp&nbsp Plug Fitted:
Moretti Forni iDeck PD 105.105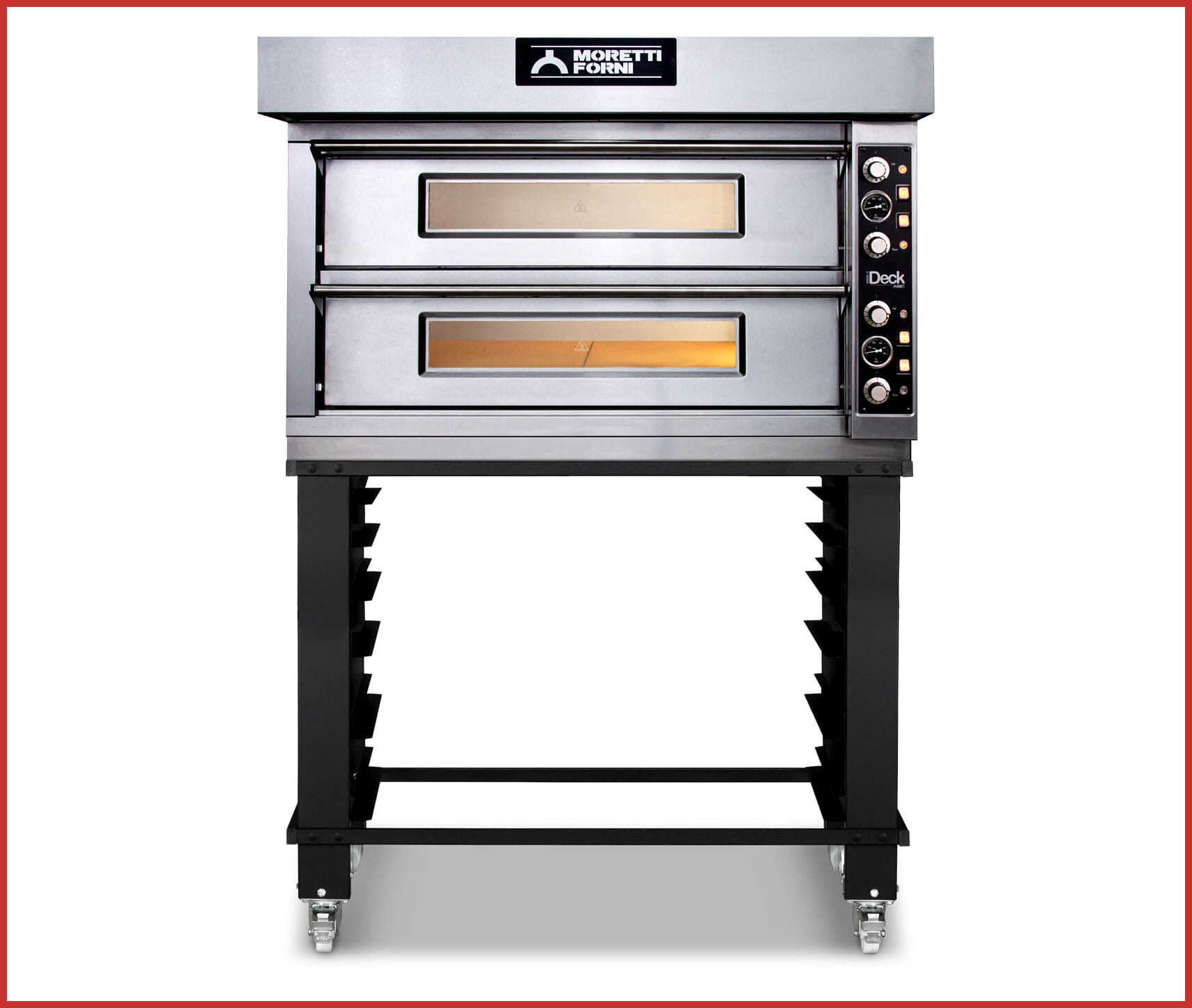 Dimensions:-
External: 1320mm W x 1400mm D x 660mm H
Internal: 1050mm W x 1050mm D x 140mm H (per deck)
Capacity: 18 x 12" pizzas
Decks: 2
Controls: Electromechanical
Power: 23.1KW (Three Phase)
Weight: 282KG
Warranty: 1 Years Parts & Labour
Oven:
£4,413
+ VAT
Static stand:
£518
+ VAT
Castors:
£165
+ VAT
Static Stand + Castors + Tray Slides:
£994
+ VAT
Hood:
£541
+ VAT
Lease purchase available
Find out more about leasing
iDeck PD 105.105 Spec Sheet
iDeck PD 105.105 | In stock:
| &nbsp&nbsp&nbsp&nbsp&nbsp&nbsp&nbsp&nbsp&nbsp&nbsp&nbspDelivery: Free, 5 Weeks | &nbsp&nbsp&nbsp&nbsp&nbsp&nbsp&nbsp&nbsp&nbsp&nbsp&nbsp&nbsp&nbsp Plug Fitted: