CUPPONE TIZIANO PIZZA OVENS
In order to meet the growing demand for a pizza oven that would be suitable for the takeaway market at a low price, Cuppone created their economy range of pizza ovens. These machines started with a very basic design, however true to Cuppone form they soon evolved into the ultra stylish looking Tiziano pizza oven that we sell today.
The Cuppone Tiziano pizza ovens are made in Italy and come in a wide array of choices to suit all budgets and requirements. All of the ovens in this range have a stone base and both the top and bottom elements in each deck are independently controlled.
Learn more on our Cuppone product page.
Click here to view the Cuppone Tiziano spec sheet.
Cuppone LLKTZ5201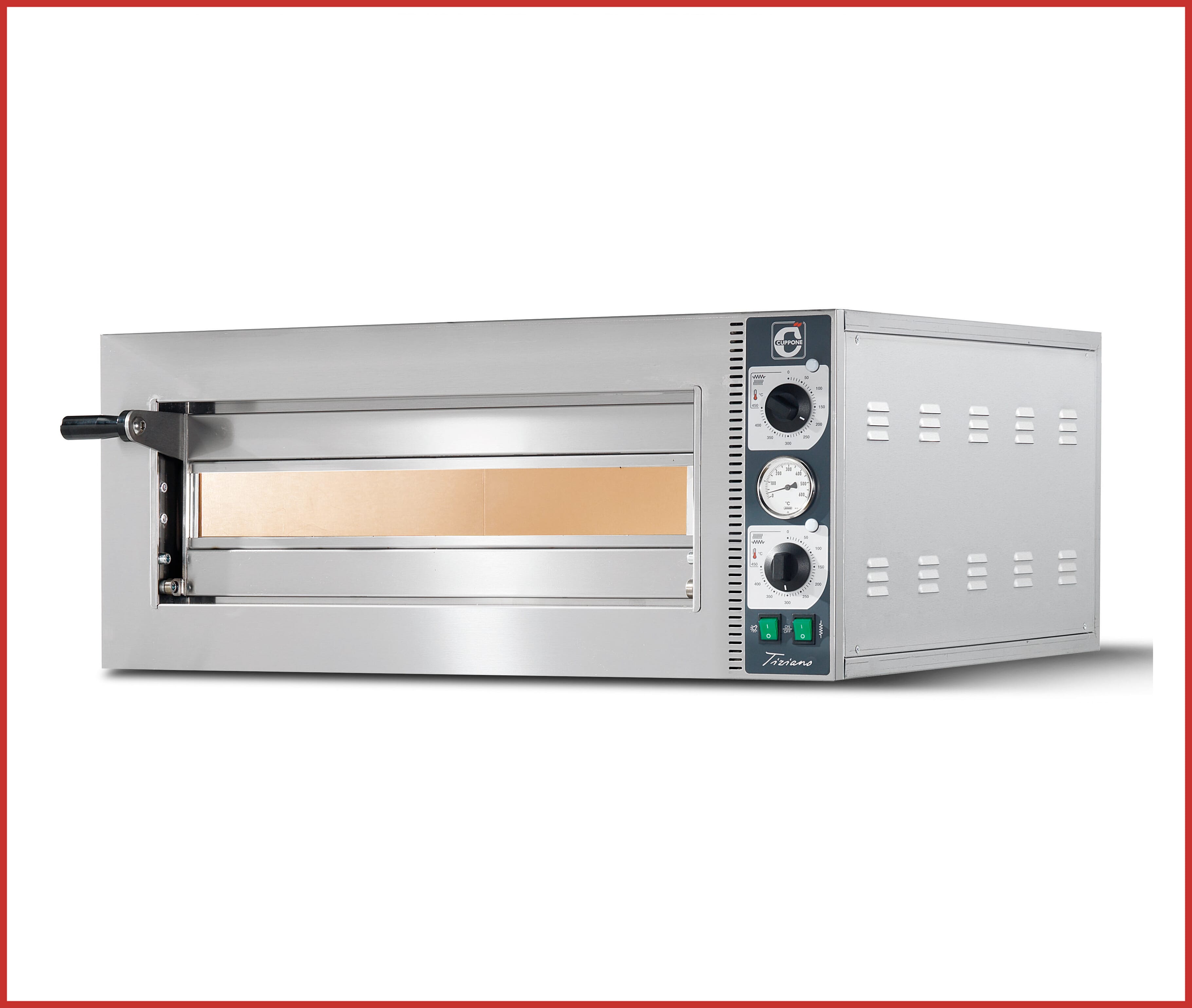 Dimensions:-
External: 802mm W x 664mm D x 365mm H
Internal: 520mm W x 520mm D x 135mm H
Capacity: 4 x 10" pizzas
Decks: 1
Power: 4KW (Single Phase or Three Phase)
Weight: 60KG
Warranty: 2 Years Parts and 1 Years Labour
Price:
£971
+ VAT
Stand:
£317
+ VAT
Lease purchase available
Find out more about leasing
Cuppone LLKTZ5201 Spec Sheet
Cuppone LLKTZ5201 | In stock:
| &nbsp&nbsp&nbsp&nbsp&nbsp&nbsp&nbsp&nbsp&nbsp&nbsp&nbspDelivery: Free, 2-3 days | &nbsp&nbsp&nbsp&nbsp&nbsp&nbsp&nbsp&nbsp&nbsp&nbsp&nbsp&nbsp&nbsp Plug Fitted:
Cuppone LLKTZ5202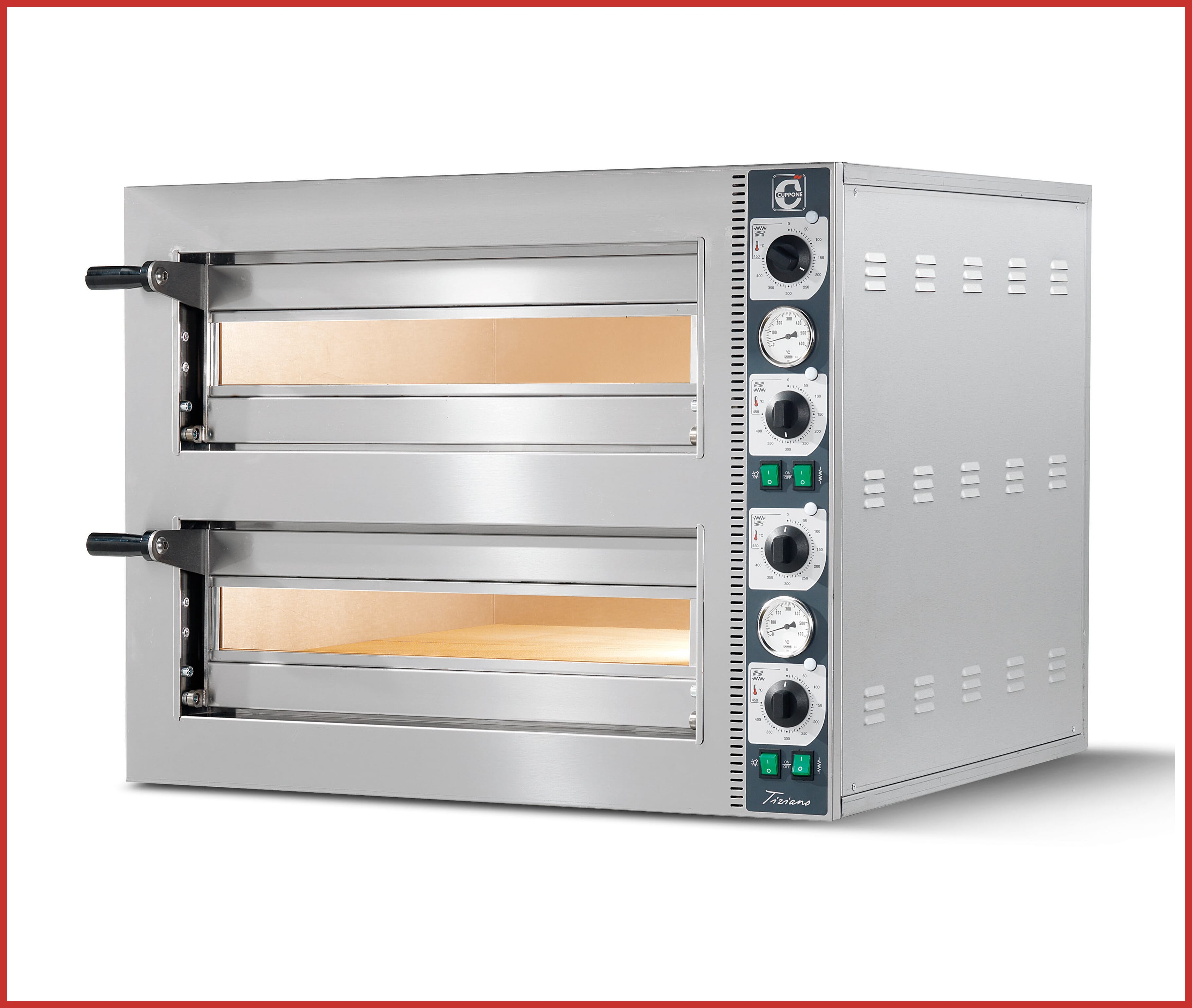 Dimensions:-
External: 802mm W x 664mm D x 650mm H
Internal: 520mm W x 520mm D x 135mm H (per deck)
Capacity: 8 x 10" pizzas
Decks: 2
Power: 8KW (Single Phase or Three Phase)
Weight: 101KG
Warranty: 2 Years Parts and 1 Years Labour
Price:
£1,597
+ VAT
Stand:
£317
+ VAT
Lease purchase available
Find out more about leasing
Cuppone LLKTZ5202 Spec Sheet
Cuppone LLKTZ5202 | In stock:
| &nbsp&nbsp&nbsp&nbsp&nbsp&nbsp&nbsp&nbsp&nbsp&nbspDelivery: Free, 2-3 days | &nbsp&nbsp&nbsp&nbsp&nbsp&nbsp&nbsp&nbsp&nbsp&nbsp&nbsp&nbsp&nbsp Plug Fitted:
Cuppone LLKTZ5203
Dimensions:-
External: 802mm W x 664mm D x 935mm H
Internal: 520mm W x 520mm D x 135mm H (per deck)
Capacity: 12 x 10" pizzas
Decks: 3
Power: 12KW (Single Phase or Three Phase)
Weight: 161KG
Warranty: 2 Years Parts and 1 Years Labour
Price:
£2,568
+ VAT
Stand:
£317
+ VAT
Lease purchase available
Find out more about leasing
Cuppone LLKTZ5203 Spec Sheet
Cuppone LLKTZ5203 | In stock:
| &nbsp&nbsp&nbsp&nbsp&nbsp&nbsp&nbsp&nbsp&nbsp&nbsp&nbspDelivery: Free, 2-3 days | &nbsp&nbsp&nbsp&nbsp&nbsp&nbsp&nbsp&nbsp&nbsp&nbsp&nbsp&nbsp&nbsp Plug Fitted:
Cuppone LLKTZ6201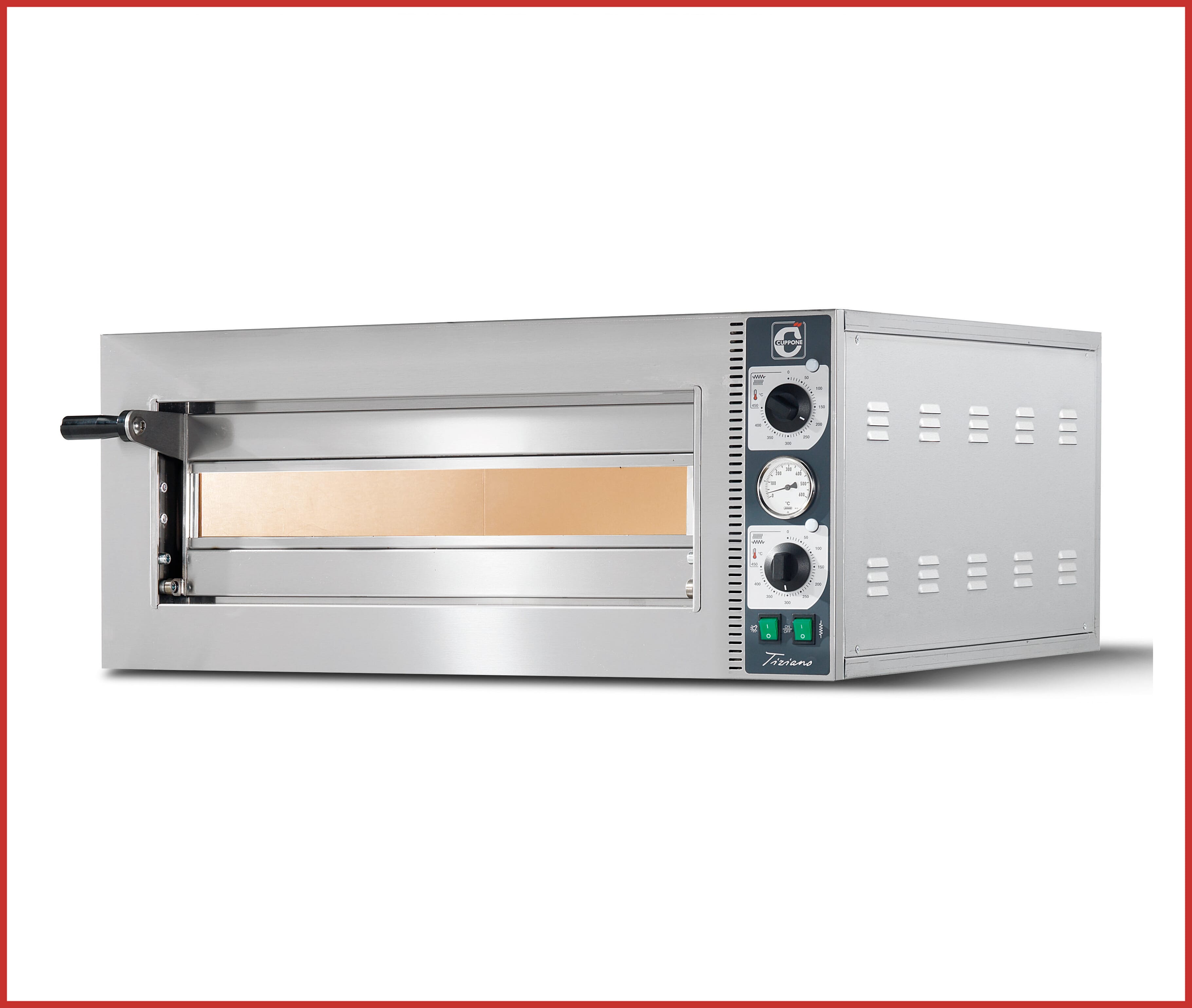 Dimensions:-
External: 910mm W x 760mm D x 365mm H
Internal: 620mm W x 620mm D x 135mm H
Capacity: 4 x 12" pizzas
Decks: 1
Power: 4.6KW (Single Phase or Three Phase)
Weight: 74KG
Warranty: 2 Years Parts and 1 Years Labour
Price:
£1,190
+ VAT
Stand:
£335
+ VAT
Lease purchase available
Find out more about leasing
Cuppone LLKTZ6201 Spec Sheet
Cuppone LLKTZ6201 | In stock:
| &nbsp&nbsp&nbsp&nbsp&nbsp&nbsp&nbsp&nbsp&nbsp&nbspDelivery: Free, 2-3 days | &nbsp&nbsp&nbsp&nbsp&nbsp&nbsp&nbsp&nbsp&nbsp&nbsp&nbsp&nbsp&nbsp Plug Fitted:
Cuppone LLKTZ6202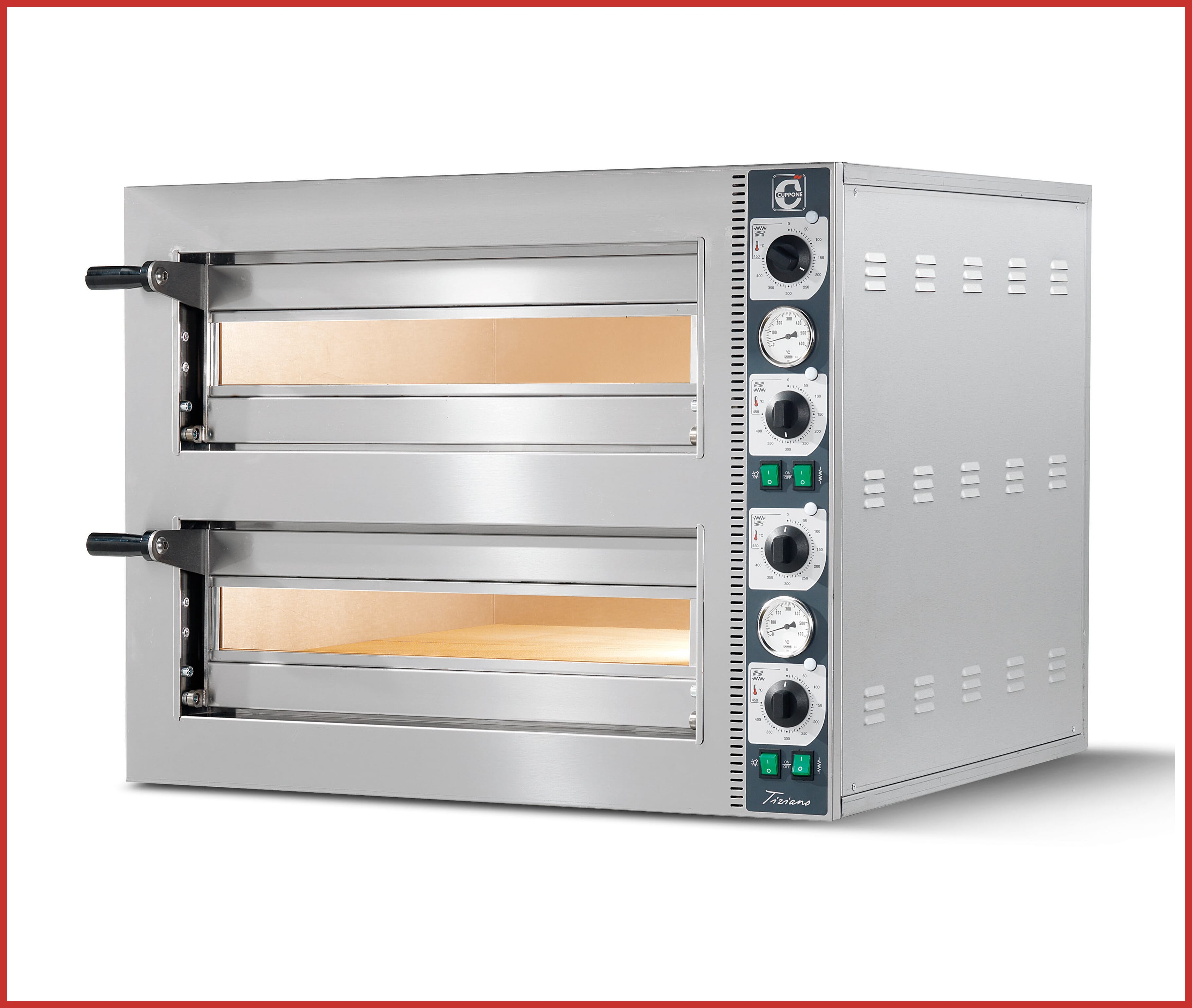 Dimensions:-
External: 910mm W x 760mm D x 650mm H
Internal: 620mm W x 620mm D x 135mm H (per deck)
Capacity: 8 x 12" pizzas
Decks: 2
Power: 9.2KW (Single Phase or Three Phase)
Weight: 124KG
Warranty: 2 Years Parts and 1 Years Labour
Price:
£1,722
+ VAT
Stand:
£335
+ VAT
Lease purchase available
Find out more about leasing
Cuppone LLKTZ6202 Spec Sheet
Cuppone LLKTZ6202 | In stock:
| &nbsp&nbsp&nbsp&nbsp&nbsp&nbsp&nbsp&nbsp&nbsp&nbspDelivery: Free, 2-3 days | &nbsp&nbsp&nbsp&nbsp&nbsp&nbsp&nbsp&nbsp&nbsp&nbsp&nbsp&nbsp&nbsp Plug Fitted:
Cuppone LLKTZ6203
Dimensions:-
External: 910mm W x 760mm D x 935mm H
Internal: 620mm W x 620mm D x 135mm H (per deck)
Capacity: 12 x 12" pizzas
Decks: 3
Power: 13.8KW (Single Phase or Three Phase)
Weight: 180KG
Warranty: 2 Years Parts and 1 Years Labour
Price:
£2,912
+ VAT
Stand:
£335
+ VAT
Lease purchase available
Find out more about leasing
Cuppone LLKTZ6203 Spec Sheet
Cuppone LLKTZ6203 | In stock:
| &nbsp&nbsp&nbsp&nbsp&nbsp&nbsp&nbsp&nbsp&nbsp&nbspDelivery: Free, 2-3 days | &nbsp&nbsp&nbsp&nbsp&nbsp&nbsp&nbsp&nbsp&nbsp&nbsp&nbsp&nbsp&nbsp Plug Fitted:
Cuppone LLKTZ7201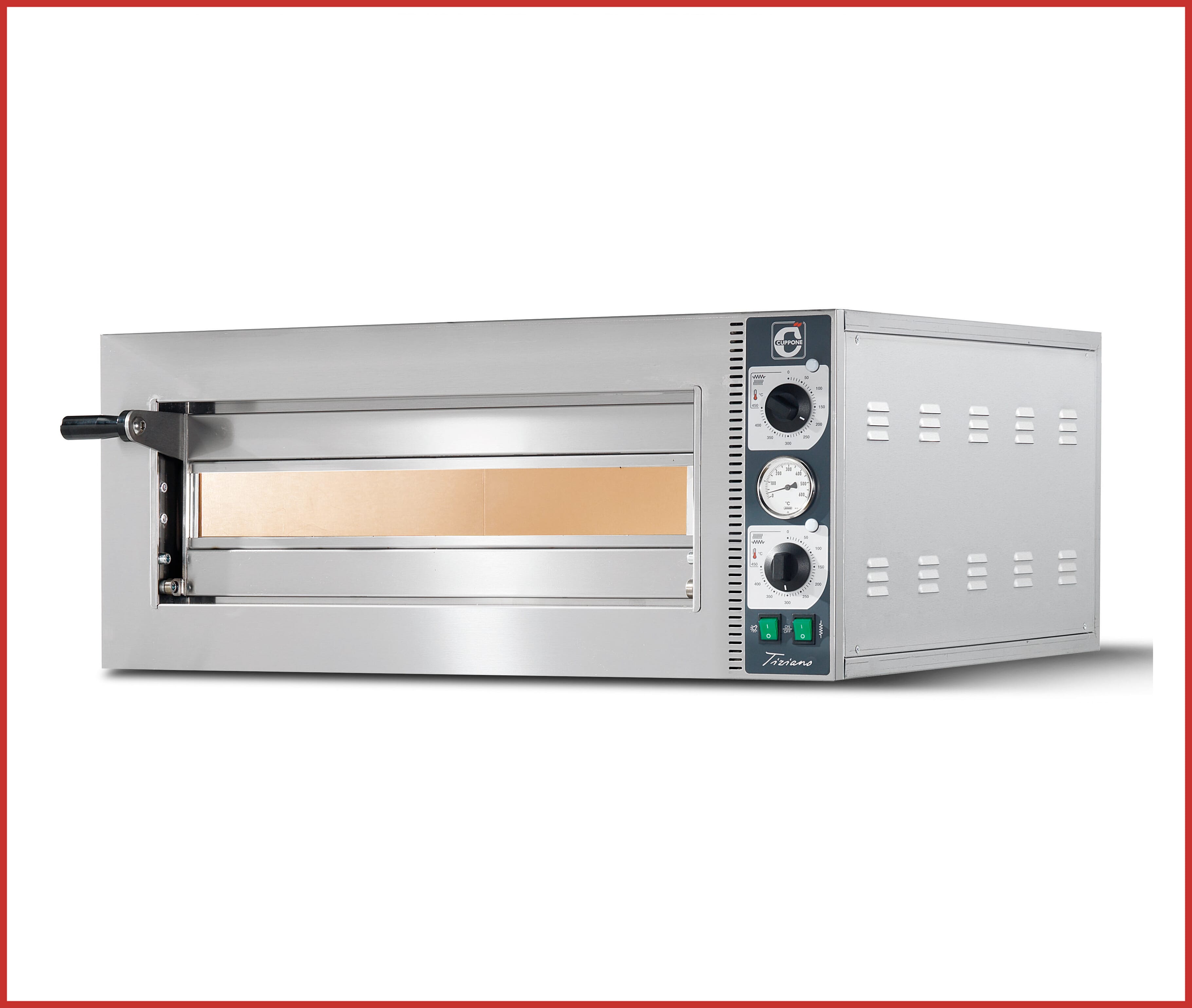 Dimensions:-
External: 1010mm W x 860mm D x 385mm H
Internal: 720mm W x 720mm D x 145mm H
Capacity: 4 x 12" pizzas (in pans)
Decks: 1
Power: 5.2KW (Single Phase or Three Phase)
Weight: 93KG
Warranty: 2 Years Parts and 1 Years Labour
Price:
£1,213
+ VAT
Stand:
£405
+ VAT
Lease purchase available
Find out more about leasing
Cuppone LLKTZ7201 Spec Sheet
Cuppone LLKTZ7201 | In stock:
| &nbsp&nbsp&nbsp&nbsp&nbsp&nbsp&nbsp&nbsp&nbsp&nbsp&nbspDelivery: Free, 2-3 days | &nbsp&nbsp&nbsp&nbsp&nbsp&nbsp&nbsp&nbsp&nbsp&nbsp&nbsp&nbsp&nbsp Plug Fitted:
Cuppone LLKTZ7202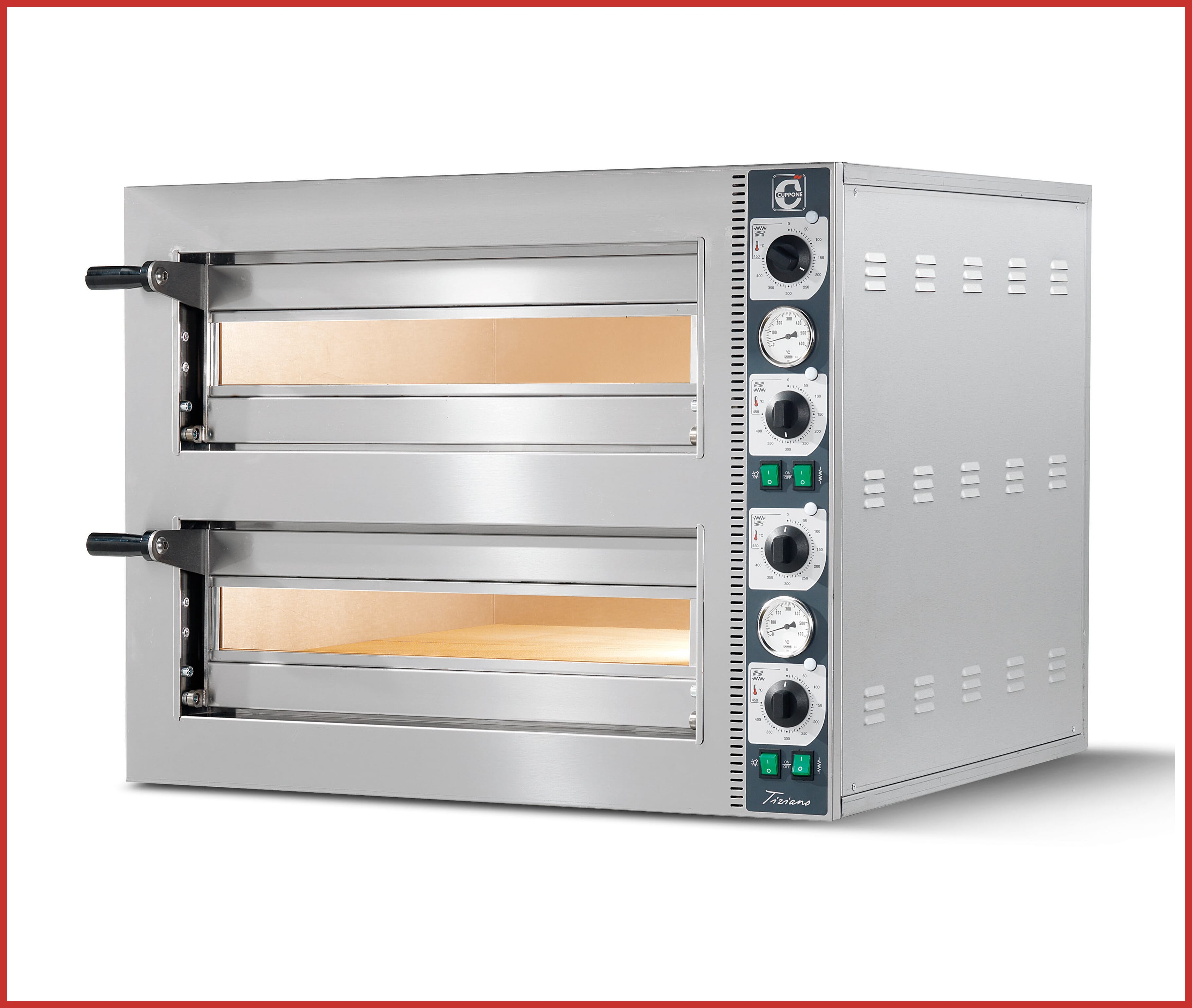 Dimensions:-
External: 1010mm W x 860mm D x 690mm H
Internal: 720mm W x 720mm D x 145mm H (per deck)
Capacity: 8 x 12" pizzas (in pans)
Decks: 2
Power: 10.4KW (Single Phase or Three Phase)
Weight: 156KG
Warranty: 2 Years Parts and 1 Years Labour
Price:
£1,928
+ VAT
Stand:
£405
+ VAT
Lease purchase available
Find out more about leasing
Cuppone LLKTZ7202 Spec Sheet
Cuppone LLKTZ7202 | In stock:
| &nbsp&nbsp&nbsp&nbsp&nbsp&nbsp&nbsp&nbsp&nbsp&nbsp&nbspDelivery: Free, 2-3 days | &nbsp&nbsp&nbsp&nbsp&nbsp&nbsp&nbsp&nbsp&nbsp&nbsp&nbsp&nbsp&nbsp Plug Fitted:
Cuppone LLKTZ7203
Dimensions:-
External: 1010mm W x 860mm D x 995mm H
Internal: 720mm W x 720mm D x 145mm H (per deck)
Capacity: 12 x 12" pizzas (in pans)
Decks: 3
Power: 15.6KW (Single Phase or Three Phase)
Weight: 225KG
Warranty: 2 Years Parts and 1 Years Labour
Price:
£3,140
+ VAT
Stand:
£405
+ VAT
Lease purchase available
Find out more about leasing
Cuppone LLKTZ7203 Spec Sheet
Cuppone LLKTZ7203 | In stock:
| &nbsp&nbsp&nbsp&nbsp&nbsp&nbsp&nbsp&nbsp&nbsp&nbspDelivery: Free, 2-3 days | &nbsp&nbsp&nbsp&nbsp&nbsp&nbsp&nbsp&nbsp&nbsp&nbsp&nbsp&nbsp&nbsp Plug Fitted: